Realistic warm yellow flame flicks softly and gently. Like a real wax candle. These led floating candles will bring you the feel of the magic world to your home.
They also work great for dinner table, room, bedroom, church service, birthday, Halloween, Christmas decoration.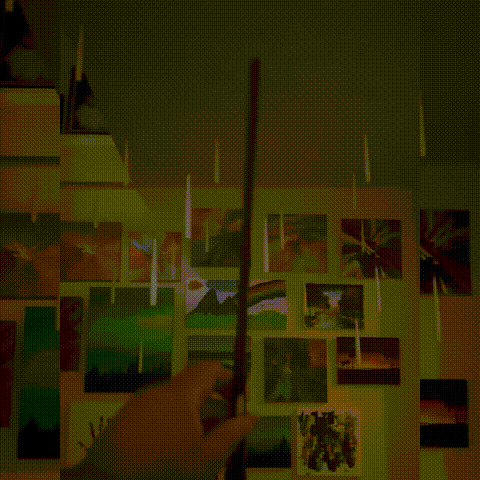 PACKAGE INCLUDES – 10 candles, 10 hooks, 1 wand-shaped remote control / 20 candles, 20 hooks, 1 wand-shaped remote control.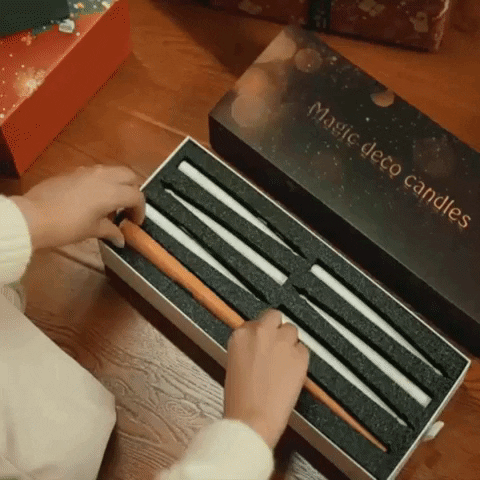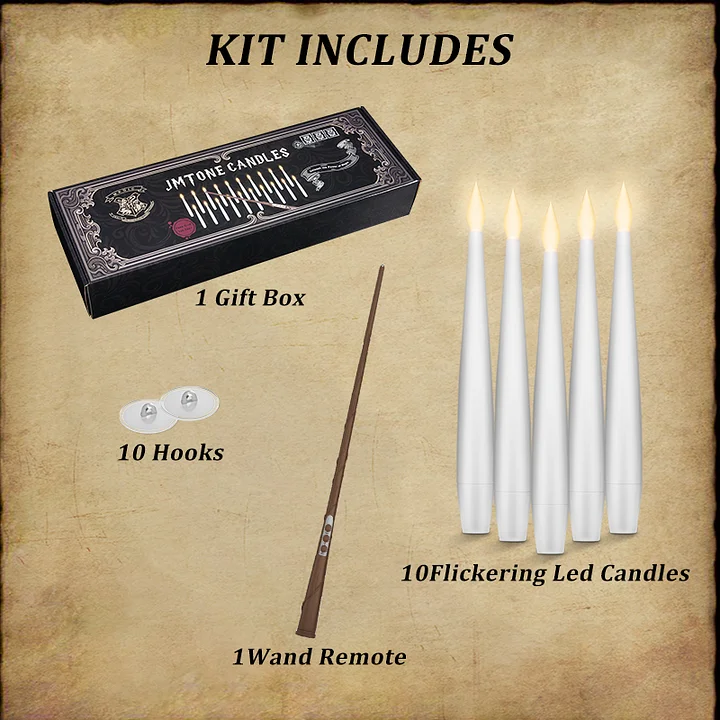 HOW TO USE – Simply twist the LED bulb anti clockwise, then insert 2 "AA" batteries(NOT Included). Slightly screw the bulb until the light on. The surprise is that you can hang them from the ceiling with fishing lines to create an effect of "floating candles".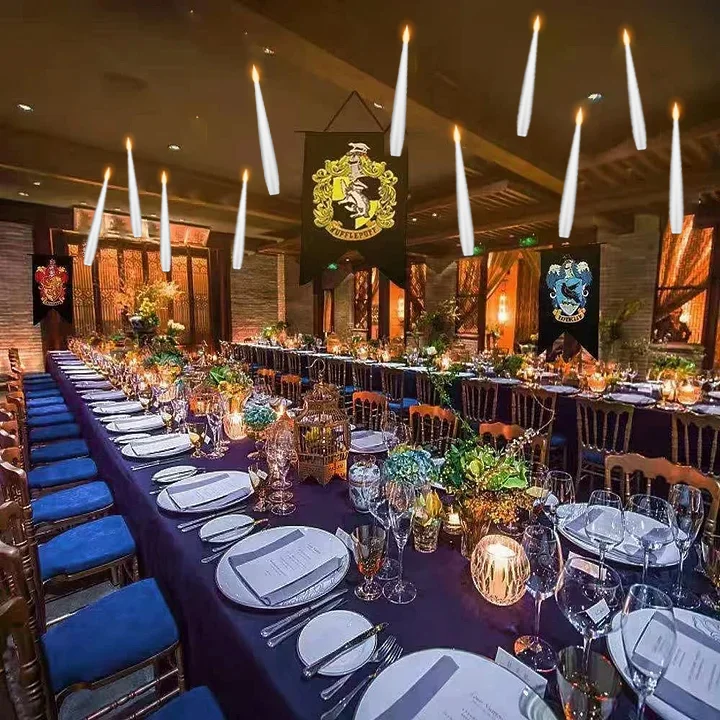 Long lasting and Safe for use – Each candle requires 2 x AAA battery (not included), can work continuously up to 150 hours. These electric flameless candles are in environment-friendly material, a good choice for family with kids and pets.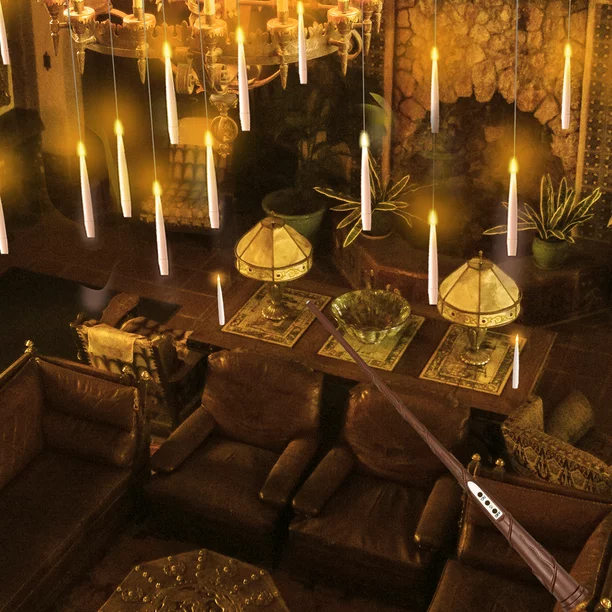 CREATE A MAGICAL AMBIENCE – The 20 packs of Floating Candles with Wand come with a 164FT fishing line (transparent), you can easily cut the length you like and thread it through the top, making it easy to hang straight and even. You can create a magical floating candle effect anywhere you like. The flickering warm white light emitted by these candles creates a magical atmosphere, perfect for adding a touch of enchantment to your home decor, parties, weddings, or any special occasion.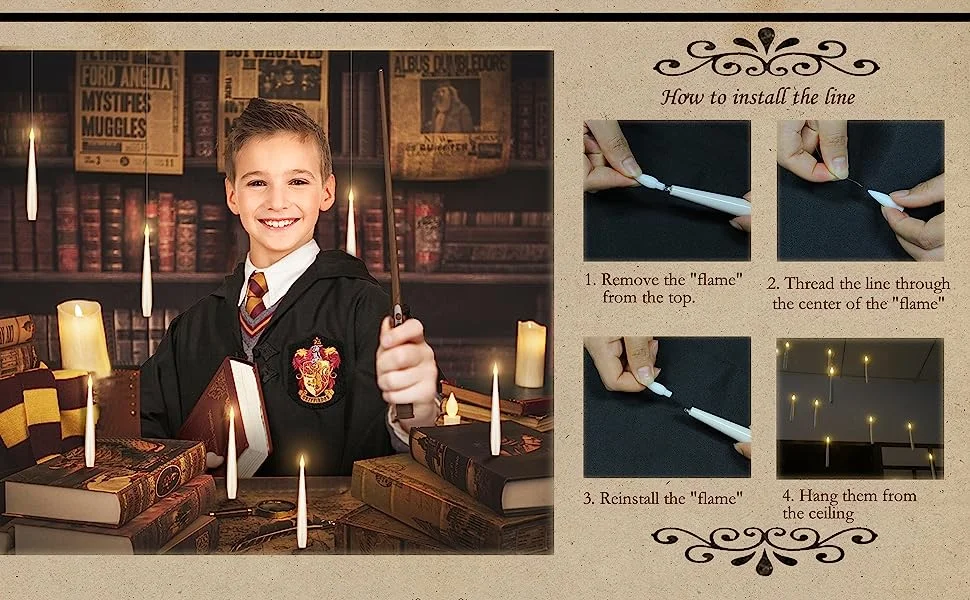 MAGIC WAND REMOTE CONTROL – Want to use magic like the wizard in the movie? The included 14-inch magic wand remote control adds a touch of fun and fantasy to your decor. This magic wand can realize your little wish, just click the switch button of the wand, and you can easily turn the on and off the candlelight. Unlike other Floating Candles with Wand, we have added a separate button to turn on the wand light. To activate the wand light, you can press and hold the middle button.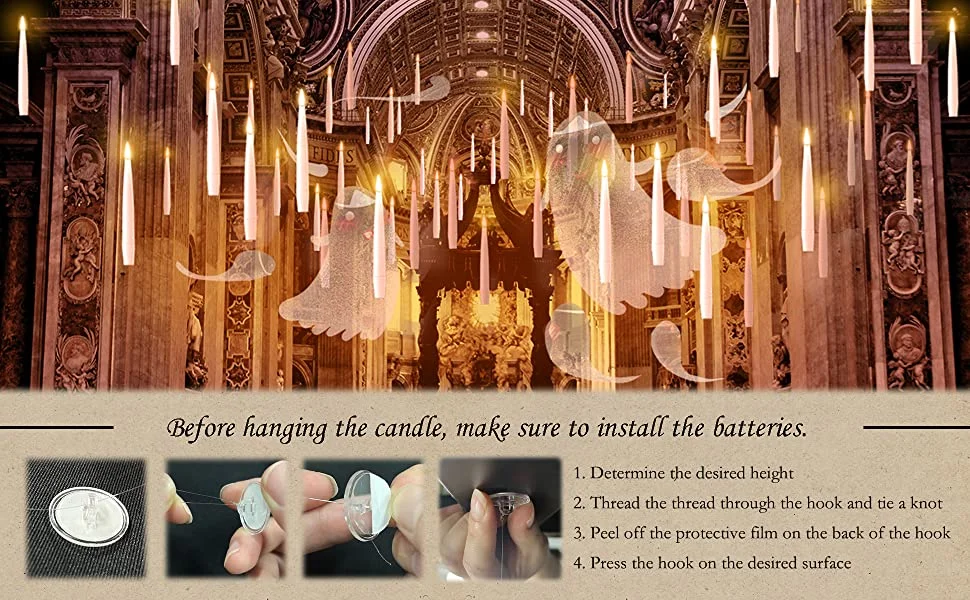 PRACTICE YOUR WAND SKILL – Unlike other wand-controlled candle lights, our wands allow you to practice your magical skills. The magic of this floating candle is that you need to keep practicing your wand skills to open more candles. It's a fun way for children to use their imagination and practice their wand skills while competing to become the most powerful wizard. (TIPS: By holding down the button on your wand, you can slow down your spell to have better control and light up more candles.)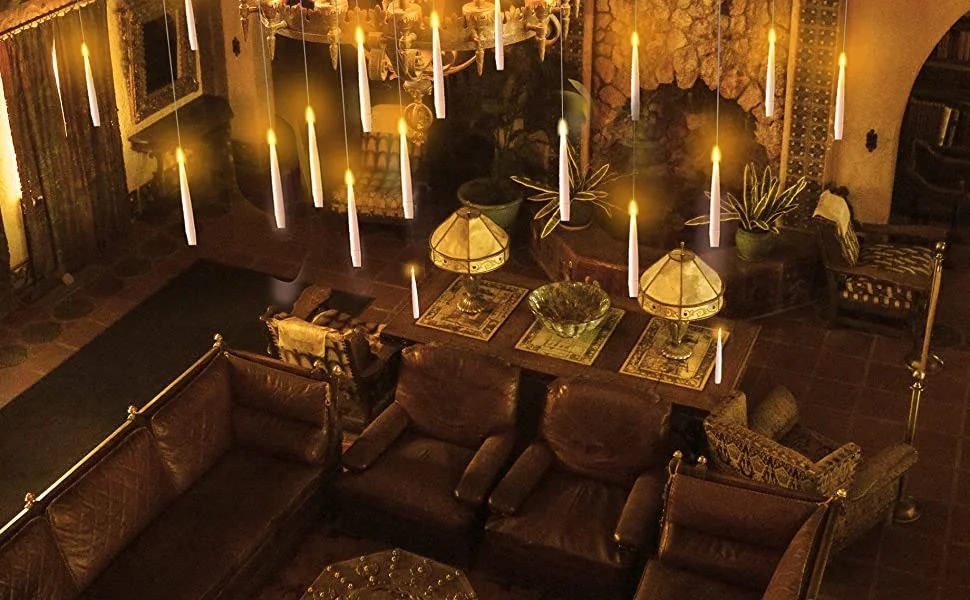 CONVENIENT & EASY TO USE – The floating candles with wand 0.6″(D)x5.9″(H) came with 20 sticky hooks and 164FT fishing line(We have provided longer fishing lines for hanging from higher ceilings), hang them wherever you like using the equipped hook, or Get creative and find your own unique way to display it. To place some of the floating candles on a shelf or table, you don't need to install the line.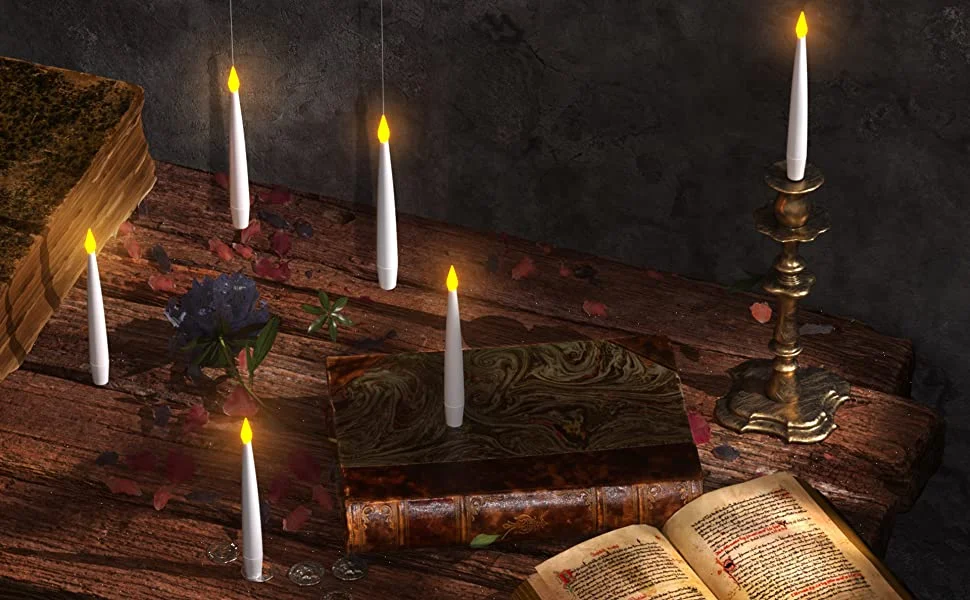 VERSATILE INDOOR DECOR -Floating Candles with Wand are perfect for a variety of indoor decorations. Whether it's for a movie theme party or a cozy dinner with loved ones, you can hang them on a chandelier, ceiling, or even on the wall. They also make great additions to bedrooms, church services, birthdays, weddings party and holiday events like Halloween and Christmas. It is a unique and special gift for Children's Day!